Page 7 sur 7 •

1, 2, 3, 4, 5, 6, 7
La vraie histoire de cet album de Susan Christie :
S'il a bien été enregistré en 1969-1970, cet album envoûtant n'a semble-t-il jamais été commercialisé, car pas assez commercial à l'époque selon la production, jusqu'à ce qu'on en retrouve en 2006 les bandes, et qu'on décide enfin de le sortir !
Si



Messages

: 595


Date d'inscription

: 01/08/2011



Bonnie Dodson Winter's gone 1969


https://m.youtube.com/watch?v=gk8DdihnlNs



Messages

: 1395


Date d'inscription

: 01/08/2011




https://m.youtube.com/watch?v=zD3OzWXsDvI
Felt : World (1971)
The Move I Can Hear The Grass Grow (1967)


https://m.youtube.com/watch?v=Q7oUwPIWCYI



Messages

: 1395


Date d'inscription

: 01/08/2011




https://www.youtube.com/watch?v=0qanF-91aJo



Messages

: 283


Date d'inscription

: 09/07/2013


Age

: 62


Localisation

: Nord 59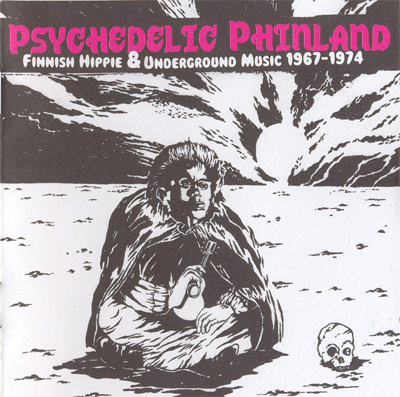 Title: Psychedelic Phinland - Finnish Hippie & Underground Music 1967-1974
Format: 2CD
Label: LOVE RECORDS
Date: 15 November 2006
Cat.No: LXCD 651
The hippie ideals and that fiercer underground arrived to Finland in the mental turmoil of the end of the 1960s. Their blooming was cut short, but both left their permanent mark on pop culture. The 2-CD Psychedelic Phinland collects together the nation's first hippie troubadours, pioneers of psychedelic prog, vanguard warriors of anarcho rock, acoustic tribal musicians and the extreme daredevils of the arctic avantgarde. The album presents the mashers of the fringes of consciousness from Blues Section to Tylympi Kohtalo ("The Grimmer Fate"), the wanderers of stellar spheres from Pekka Streng to Jukka Kuoppamäki, the gravediggers for the Establishment from Suomen Talvisota 1939-40 ("The Finnish Winter War 1939-40") to Apollo, those who grasped the meaning of the holy simplicity from Those Lovely Hula Hands to Kruununhaan Dynamo ("Kruununhaka's Dynamo") and the midwives of sonic revolution from The Sperm to Sähkökvartetti ("The Electric Quartet"). It's a unique sound documentary of the alternative music of the turn of the 1960s and 70s. For those already familiar with Suomen Talvisota and The Sperm are offered some curiosities which amaze by their sheer existence. Everything essential concerning the topic is presented here -- from Jorma Ikävalko's no-holds-barred hippie comedy to the flute meditation reaching for the world spirit by Sikiöt ("The Foetuses"). This compilation produced by Jukka Lindfors includes 29 tracks from 20 different artists or bands, including self-releases, radio and TV performances and live recordings. The sleeve illustration is provided by Timo Aarniala, the court artist of Finnish underground. The whole it can be best described by the words of the poet Markku Into: "Everyone does their own thing. A symphony for every member of the family, for everyone their own alienation".
Dani, "H comme hippies" en 1967


https://m.youtube.com/watch?v=tU_uNvBy1KQ



Messages

: 267


Date d'inscription

: 01/08/2011


Localisation

: Chaumont (Haute-Marne)



Page 7 sur 7 •

1, 2, 3, 4, 5, 6, 7

Sujets similaires
---
Permission de ce forum:
Vous
ne pouvez pas
répondre aux sujets dans ce forum